By Daniel Smith
The Morrison Government's decision to deliver billions of dollars in submarine maintenance work to South Australia highlights again how important the Liberal-held states are to Prime Minister Scott Morrison's political survival.
Opposition Leader Anthony Albanese needs a net gain of seven seats in the 151-seat House of Representatives for Labor to win majority government at the upcoming federal election.
A feature of Australia's COVID-era politics is that voters have shown an inclination to credit their state governments when they have felt protected from COVID. Border controls, lockdowns and other public health measures have all been decisions of state leaders. While the trajectories have been different in each state, most state leaders and their parties have enjoyed periods of strong support over the past 18 months.
Mr Morrison's re-election strategy is all about leveraging the political capital available in the Liberal-held states to retain currently held marginal seats in those states, and perhaps pick up seats to offset potential losses in the Labor-controlled states of Victoria, Queensland and Western Australia.
However, since the outbreak in New South Wales in June, this task has become significantly more complicated.
Prior to the outbreak, based on public confidence in the Berejiklian Government's "gold standard" approach to COVID management, Mr Morrison would have given himself a strong chance of picking up a swag of Labor-held marginals in NSW. These would have included Macquarie, Eden-Monaro, Dobell, Greenway, and Hunter, all of which Labor holds on margins of less than three per cent.
But, state-by-state polling data compiled by William Bowe at pollbludger.net for CGM shows that, with a swing to Labor of 3.2 per cent currently being recorded in NSW, Mr Morrison will struggle to defend the Liberal-held seat of Reid, let alone pick up seats.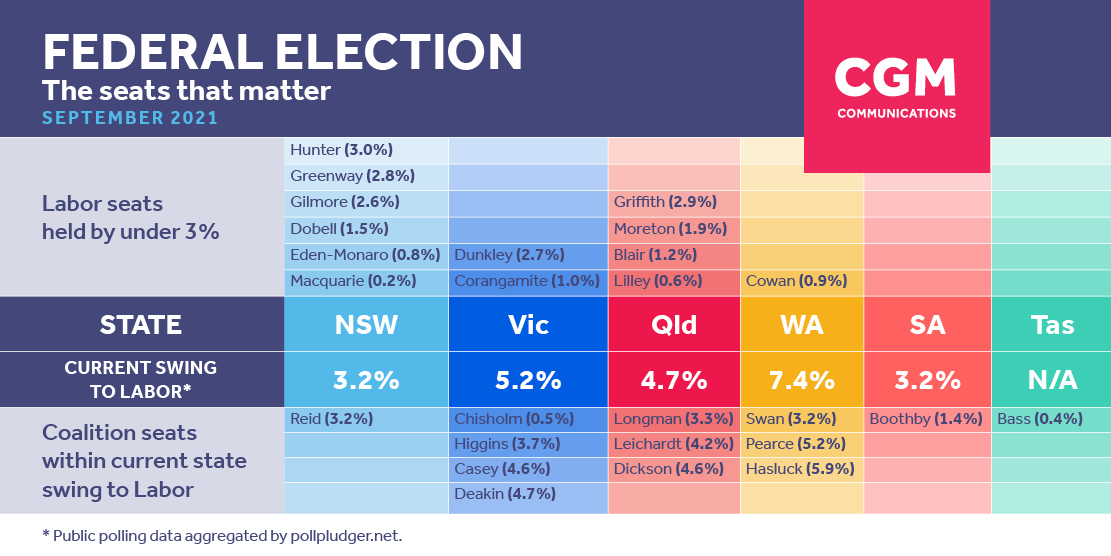 A similar swing is being recorded in SA, putting the Liberal-held seat of Boothby at risk. Based on national trends, the Liberals are also likely to have trouble defending Bass in Tasmania, which is their most marginal seat in the country.
Based on current polling trends in Victoria, Queensland and WA, 10 seats appear at risk of falling to Labor in these states.
In Victoria, if the current swing against the coalition of 5.2 per cent was uniform on election day, this would cost the Liberals the seats of Chisholm, Higgins, Casey and Deakin.
In Queensland, the currently projected swing of 4.7 per cent would, if uniform, cost the Liberal National Party the seats of Longman, Leichhardt and Peter Dutton's seat of Dickson.
Here in WA, the current swing of 7.4 per cent is the biggest state-based swing in the nation. If this swing was uniform on election day, the Liberals would lose Swan, Christian Porter's seat of Pearce and Ken Wyatt's seat of Hasluck.
The challenge Mr Morrison has with his strategy is that his efforts to recover and grow support in the Liberal-held states appear to make his task that much harder in the Labor-held states.
For example, the submarine maintenance decision may be of assistance in Boothby, but it has to hurt in Swan, Pearce, and Hasluck.
Similarly, Mr Morrison's all-in support for the Berejiklian Government, whether that be for its light-touch approach to lockdown at the start of the current outbreak, or through the prioritisation of vaccines and financial support for that state once the outbreak took hold, has come at a cost in Victoria.
As things stand, Mr Morrison's electoral prospects hinge on containing the swings in Victoria, Queensland and WA, holding the line in SA and Tasmania, then turning things around in NSW, so that he is winning seats, rather than losing a seat, in that state.
This will not be an easy task. The Labor Premiers are unlikely to provide any assistance. And Mr Morrison needs everything to go right in NSW.
To turn his prospects around, Mr Morrison will be banking on NSW emerging from lockdown and opening up effectively, as well as the NSW health system holding up during peak-COVID in the months ahead. Perceptions of inequalities in the way lockdown restrictions have been applied across NSW will also need to be addressed. As will residual feelings about the Prime Minister's handling of the pre-COVID bushfire crises. Mr Morrison wouldn't want another bad bushfire season.
Of course, there is still plenty of water to go under the bridge between now and the election. New issues could emerge and everything could change. But, based on current polling trends, the Morrison Government is in trouble and its strategy of banking support in the Liberal-held states is under pressure.
All Australians hope things get better quickly in New South Wales. But, perhaps nobody more so than the Prime Minister. There are only so many multi-billion defence contracts you can throw around to bolster support elsewhere.
Next week, we take a deep dive on the Liberal-held states important to the fortunes of both Mr Morrison and Mr Albanese.