After devastating Bill Shorten's hopes of becoming Prime Minister in 2019, Queensland will again be critical to Labor's hopes of emerging from the political wilderness.
Despite going in with expectations of a net gain, Labor lost two seats to the coalition at the 2019 federal election, leaving it with only six of the 29 seats available. With just over 20 per cent of seats, this makes Queensland federal Labor's weakest state.
Like many West Australians, many within Queensland have shown a willingness to vote Labor at state elections and LNP at federal elections, a source of great frustration in Labor ranks.
I am conscious of being a West Australian in writing this, but there are a number of factors that make Queensland's political landscape unique.
The identity of South East Queensland as almost a state within a state, with increasing similarities to the urban populations of the southern states. A significant, decentralised regional population, with a history of producing figures like Pauline Hanson, Bob Katter and Clive Palmer, each with their unique brand of economic protectionism and social conservatism.
Add two of the most outspoken COVID-era leaders in Queensland Premier Annastacia Palaszczuk and outgoing Chief Health Officer Jeanette Young, the massing of COVID numbers on the other side of the state's populated and somewhat porous southern border, a tourism industry that is on its knees, as well as an often hostile relationship between the Queensland and federal governments, and you have a highly charged political environment.
Then there's the impact of the many people who have migrated to Queensland as a place of relative COVID-safety over the last 18 months.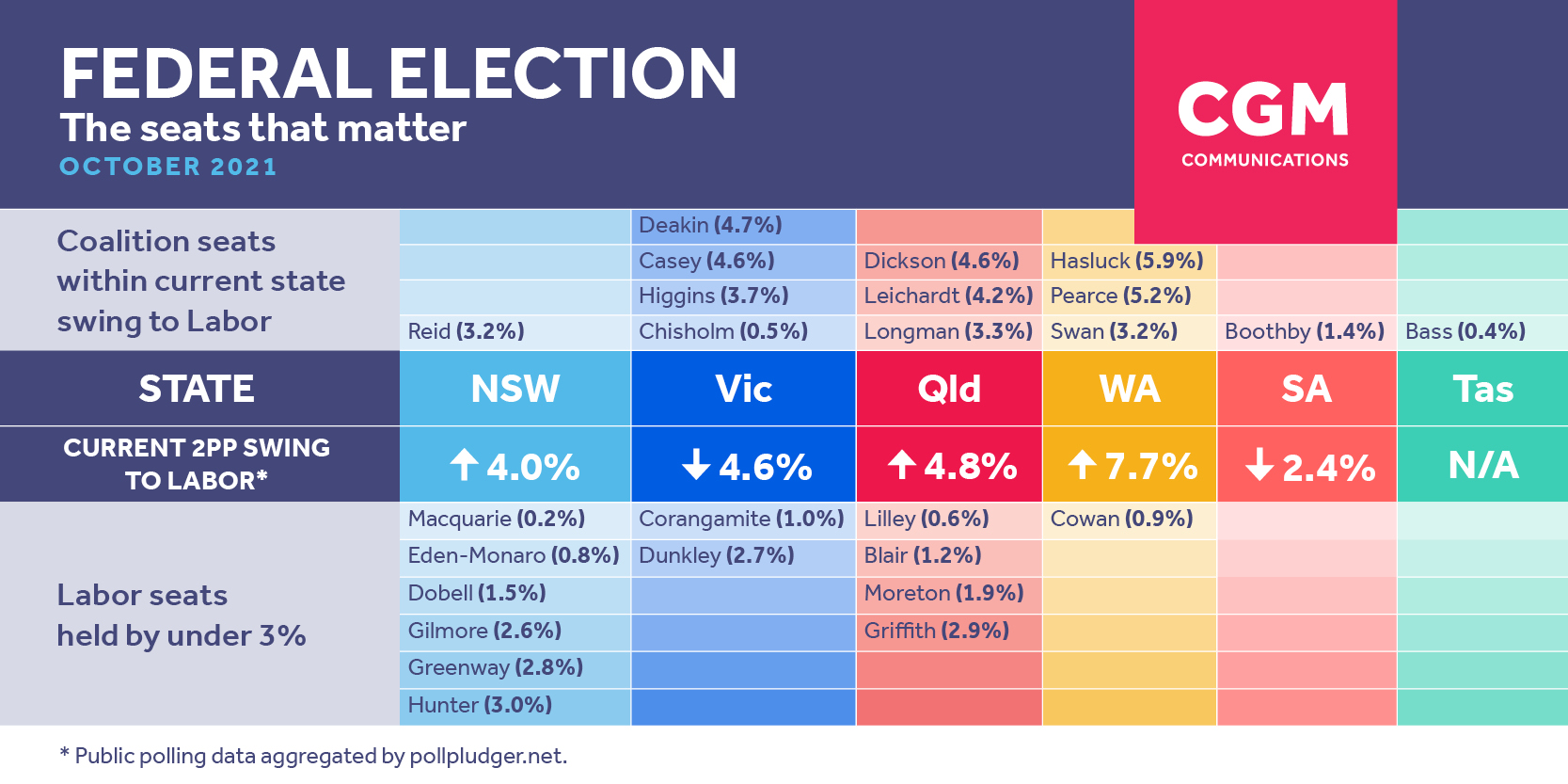 The Poll Bludger's state-by-state breakdown of published federal voting intentions in Queensland is currently showing a 4.8 per cent swing to Labor on two-party-preferred terms. If uniform on election day, this would net Labor three of the seven seats it needs to form majority government, with an additional prospect in the seat of Brisbane sitting on a 4.9 per cent margin.
We take a closer look at these seats below, before examining the swag of Labor marginals potentially available to the LNP.
LONGMAN (LNP 3.3%)
Brisbane's northern fringe consists of two distinct parts: Bribie Island and the adjacent mainland suburbs, and Caboolture and Burpengary which lie further inland.
Both Caboolture and Burpengary are white working-class, which is reflected in the lowest median income of any seat in greater Brisbane. Bribie Island is a retirement haven with a large 60+ cohort.
The seat of Longman was gained for the LNP in 2019 by Terry Young, who unseated Labor's Susan Lamb with a 4.1% swing. Lamb had gained the seat in 2016 from Wyatt Roy, who at 20 became the youngest person ever elected to the House of Representatives when he took the seat from Labor in 2010.
Lamb's win was partly due to One Nation's decision to put her ahead of Roy on its how-to-vote cards, leading to 56.5% out of their 9.4% vote share flowing to Labor.
With only slight changes on the primary vote (LNP down 0.4% to 38.6%, Labor down 1.3% to 34.1%), most of the swing to Young in 2019 was from improved preference flows: 66.1% from One Nation's 13.2% share of the vote, along with 64.2% from the United Australia Party's 3.4%.
In between the two elections, Lamb had to face one of the "Super Saturday" by-elections on July 28, 2018, at which she gained a 3.6% two-party preferred swing. While this was modest for a by-election, the result was an important catalyst for Malcolm Turnbull's demise a month later, with critics pointing to a 9.4% drop in the LNP primary vote and One Nation's 15.9%.
Terry Young was the owner of a sports store franchise before entering parliament. The Labor candidate is Rebecca Fanning, a Queensland government health policy adviser.
LEICHHARDT (LNP 4.2%)
The seat of Leichhardt covers Cairns and the Cape York Peninsula. Cairns is naturally marginal and provides about two-thirds of the voters. The remainder consists of conservative-leaning rural areas immediately north of Cairns, and Labor-voting indigenous communities further afield.
The seat only swung to the LNP by 0.3% in 2019 – a very different result from elsewhere in central and northern Queensland, where the swings range from 6.1% to 11.8%.
This is likely because of the importance of tourism to the local economy, much of it dependent on the Great Barrier Reef, which has caused climate change issues to play very different here.
Where other central and north Queensland seats rank in the top ten for employment in agriculture (Maranoa), mining (Capricornia, Flynn, Dawson) or both (Kennedy), Leichhardt does so for accommodation and food.
The electorate has the nation's third-highest indigenous population, behind Lingiari in the Northern Territory and Durack in Western Australia.
Warren Entsch is seeking another term at the age of 70, after thinking better of his announcement on 2019 election night that this term would be his last, saying he wished "to help the region recover from the COVID-19 pandemic".
Entsch has held the seat since 1996, outside of his temporary retirement from 2007 to 2010. The seat was won for Labor in 2007 by Jim Turnour, one of Labor's nine gains in Queensland at that election. Entsch recovered the seat for the LNP when he came out of retirement in 2010.
Labor's candidate is Elida Faith, an official with the Left faction's Community and Public Sector Union.
DICKSON (LNP 4.6%)
The seat of Dickson covers suburbs 10 to 25 kilometres north of central Brisbane, together with semi-rural territory further to the west.
It has the state's second-highest share of mortgage payers, slightly surpassed by Wright.
Dickson has been held for the LNP by Peter Dutton since 1998, when he unseated Cheryl Kernot, former Australian Democrats leader and one-term Labor member.
Dutton came within 217 votes of defeat in 2007, then unsuccessfully sought preselection for the safe Gold Coast seat of McPherson, where he was defeated by Karen Andrews.
He was again run close at the 2016 election, winning by only 1.6%, before gaining a 2.9% swing in 2019.
The seat will again be contested for Labor by its candidate from 2019, Ali France - a motivational speaker and former television producer who lost a leg in a car accident in 2011. Her father, Peter Lawlor, was a minister in Anna Bligh's state government.
BRISBANE (LNP 4.9%)
Brisbane has been mostly a Labor seat since World War II, but has been held by the LNP since the 2010 election. The redistribution before that election strengthened the LNP by adding affluent Clayfield to the city's north-east.
Unusually for Queensland, but typical for an inner-city seat, Brisbane swung slightly to the LNP in 2016 and slightly to Labor in 2019.
Also typically for a CBD seat, Brisbane has a high median income (the highest in Queensland along with Ryan, depending on which measure you use), with a heavy concentration of people in their twenties and thirties and correspondingly fewer children and seniors. However, it is markedly less multicultural than electorates in Sydney and Melbourne.
Brisbane is one of the two strongest seats for the Greens in Queensland, together with Griffith. Their candidate in 2019 was former Australian Democrats leader Andrew Bartlett, who fell narrowly short of overtaking Labor in second position (25.4% to 23.7%) to reach the final count.
Brisbane's 79.5% yes vote in the late 2017 same-sex marriage referendum was the sixth highest in the country, and the highest outside Sydney and Melbourne.
LNP member Trevor Evans is good fit for the electorate – he is one of only three openly gay Liberal MPs in the House of Representatives and a former chief executive of the National Retailers Association. He was also once chief of staff to Peter Dutton, but nonetheless opposed him during the August 2018 Liberal leadership contest.
Labor's candidate is Madonna Jarrett, a director at Deloitte Australia. The Greens candidate is retail worker Stephen Bates.
LILLEY (Labor 0.6%)
Labor came surprisingly close to losing the inner northern Brisbane seat of Lilley when Wayne Swan retired in 2019, with his successor Anika Wells holding out by just 0.6% after a 5.0% swing.
Swan held the seat from 1993 to 2019 outside of an interruption from 1996 to 1998, when Labor lost all but two of its Queensland seats with the defeat of the Keating government.
Wells is a former lawyer with Maurice Blackburn, aligned with AWU-dominated Labor Forum sub-faction of the Right, as was Swan.
The LNP candidate is Ryan Shaw, who served in the ADF in East Timor and Afghanistan and ran unsuccessfully in Nudgee in the 2020 state election.
BLAIR (Labor 1.2%)
The seat of Blair includes Ipswich and rural territory to the north.
It ranks #15 in the country for children under 10 and #19 for those aged 10 to 19, but with more renters and fewer mortgage payers than is typical for an electorate dominated by young families.
The seat is slightly shaded by Longman as the lowest income seat in greater Brisbane.
It has been held for Labor by Shayne Neumann since 2007, who had his closest scrape in 2019 when a 6.9% swing reduced his winning margin to 1.2%.
Together with Graham Perrett in Moreton, Neumann is one of only two out of the nine Queensland Labor members elected in 2007 who has retained their seat long term.
Neumann is a former family lawyer who holds outer shadow minister rank. He is aligned with the Labor Unity/Old Guard sub-faction of the Right, distinct from the AWU-dominated Labor Forum.
The LNP has yet to choose a candidate.
MORETON (Labor 1.9%)
Moreton takes in the southern Brisbane suburbs, including the Chinese community hub of Sunnybank, giving it the largest non-English speaking population of any seat in Queensland.
The Liberals held the seat through the Howard years, but it has since become stronger for Labor due to its increasing cosmopolitanism and redistributions that have drawn it into the inner suburbs.
Graham Perrett has held the seat for Labor since 2007 by margins ranging from 1.1% in 2010 to 4.7% in 2007. The current margin of 1.9% followed a 2.1% swing to the LNP in 2019. Perrett holds shadow assistant minister (formerly parliamentary secretary) rank.
The LNP has yet to choose a candidate.
GRIFFITH (Labor 2.9%)
Griffith covers the southern bank of the Brisbane River and further inner-city territory to the south.
It's a mixed bag electorally, encompassing strong Greens territory around South Brisbane and the West End and a relatively conservative riverside stretch further east around Bulimba.
It is typical of an inner-city seat in being affluent, dominated by people in their twenties, and lacking in mortgage payers. Griffith recorded a 76.6% yes vote in the 2017 same-sex marriage survey, the eighth highest in the nation.
The seat was last won by the Liberals in 1996, when Kevin Rudd first ran and Labor was all but wiped out in Queensland. Rudd won on the second attempt in 1998 and held it through to his retirement in 2014.
Terri Butler has since held it for Labor on narrow margins – 1.8% at the by-election, 1.6% in 2016 and 2.9% in 2019.
Griffith was the Greens' strongest seat in Queensland at the 2019 election with 23.7% of the vote.
Butler received a particularly strong 86.4% of their preferences, allowing her to overhaul the LNP's 41.0% to 31.0% lead over her on the primary vote.
Butler is a Left-aligned former industrial relations lawyer with Maurice Blackburn. She was promoted to shadow cabinet in the environment and water portfolios after the 2019 election defeat.
As in 2019, the LNP candidate is Olivia Roberts, former lawyer and current full-time director of the Easts Leagues Club.
Next week, we turn our focus on our home state of Western Australia.